Pinterest can be a very successful platform for promoting His Secret Obsession.
There are many women who use Pinterest to gather ideas and solve problems. This is a captive audience which may enjoy pins and ads about relationships.
Here are some resources to help make your advertising on Pinterest even more profitable.
This article is tailored towards buying Pinterest traffic, however some of the principles below may also apply to organic Pinterest marketing, which can also be very profitable.
The data below is based on our most engaged Pinterest visitors. You can use this information to build targeting audiences.
Want more information? You can see all our data here on this Google Sheet.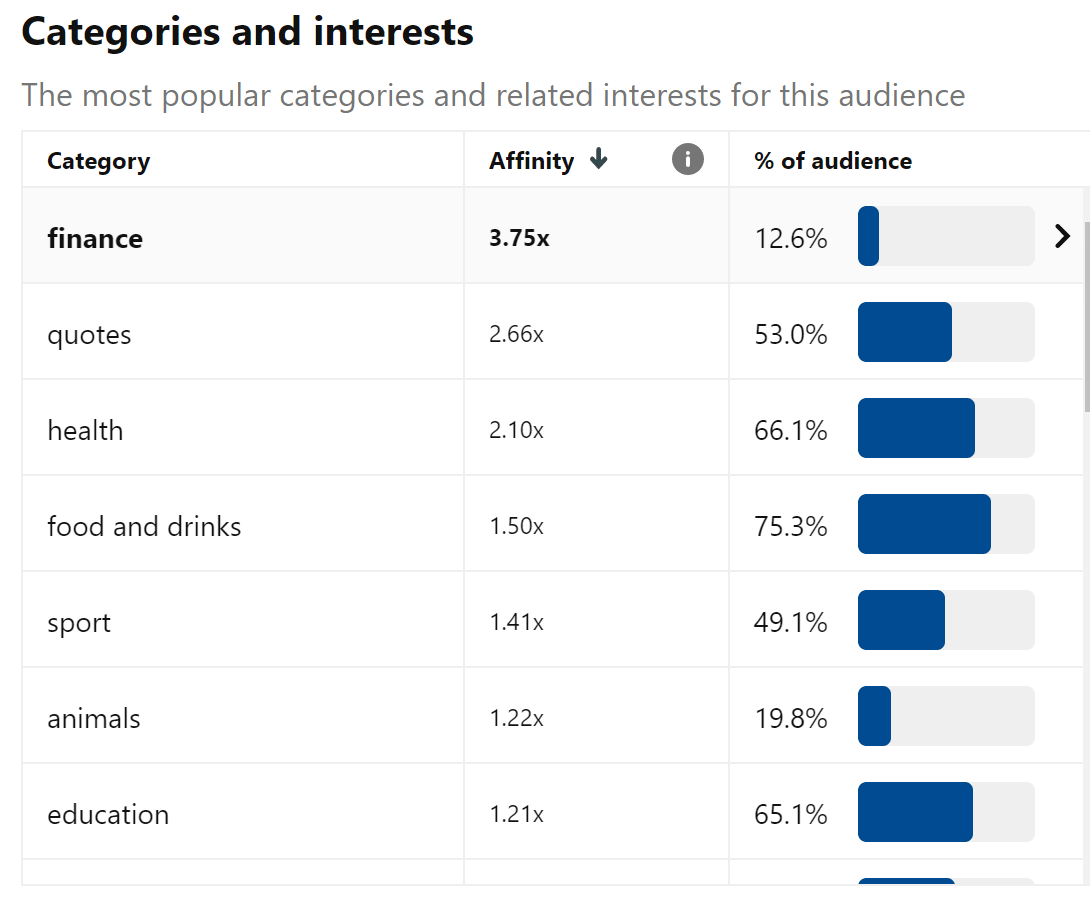 Highest Affinity Audience

Age and Gender Distribution of most engaged audience.
In addition to targeting women, you may want to target unspecific as well.  I have been told that this audience is the early adopters of Pinterest and the majority of them are women.
I would probably avoid the finance targeting category. I believe in our data that this high affinity may be skewed upward by affiliate visitors.
We provide a collection of Pinterest ads which are available for download here. Plus more ads are coming soon.

Best practice for ads is to test 4-6 of these ads at a time. Don't add too many of them.
Be aware some of these ads have been flagged as Clickbait by Pinterest as we've been buying traffic. When this happens we test new versions with different stock photos or copy.
You will need to be aware of the importance of compliance when buying traffic. I wrote a Facebook article about compliance. While it is focused on Facebook, the information may apply.
If you decided to build your own ads, here are some resources which may be useful.
 Also, remember that you cannot use any Be Irresistible or His Secret Obsession logos in your ads.
If you have any questions, please see our rules here.
We did a small test comparing objectives between Consideration (formerly traffic) and Conversions, and we found better results focusing on conversions.
I understand that as you are reading this article things may have changed within Pinterest, but based on our experience you should focus on conversion as your objective. 
Of course, it's always good to keep testing.
We can also add your Pinterest pixel into our His Secret Obsession landing pages and upsell page to help you with your targeting.
However, please make sure you've gotten at least three sales before requesting this custom pixel installation.
Good luck With Your Buying
I wish you the very best in your traffic buying. If you have any question, please reach out and let us know!