Last year our affiliates made millions of dollars promoting Beirresistible products.
It was incredible, and we were lucky to talk with them and learn about their successes.
Can you guess how they made so much money?
Of course the correct answer is Facebook traffic.
Facebook is an incredible traffic source with powerful targeting, smart bidding, and the potential for mind-blowing scale.
It's the holy grail for affiliate marketers.
But like all great traffic sources, Facebook has its own challenges. And the biggest one we've heard is advertising compliance.
How can you avoid a Facebook banning while promoting affiliate products?
We have affiliates that would still be earning thousands of dollars a day if only they could get their Facebook Ads back online. They got banned and it hurt badly.
We've heard their concerns and wanted to put together some suggestions to help you avoid the same terrible Facebook banning.
In addition to this article, we also suggest you take some time to review the Facebook Advertising Guidelines. These are straight forward and surprisingly helpful.
A Proper Sales Funnel
When Facebook approves ads, they review the ad and the landing page. This means both must meet their advertising guidelines.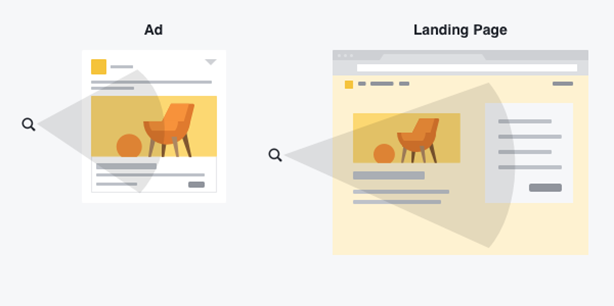 Facebook checks the ads and the landing page.
In the old days of affiliate marketing, people would build ads on Facebook and link them directly to our sales letter. The flow looked something like this:

This simple funnel no longer works.
Then came the use of the landing page.
People made single page landers and quizzes that led to our sales pages after a brief pitch or opt-in box. These were fantastic for conversions, but they often don't last long with compliance.

Depending on the design, this may not work for a long time either.
The Facebook community standards want you to be
authentic
and avoid
misrepresentation
. Landing pages are often lacking in authenticity.
Consider this landing page example which is very close to what affiliates share with me for review.
Old Style Landing Page Example
Notice how it contains only a headline, a banner from our affiliate area, and a call to action button.
Yes, this page might convert well, but my gut tells me it won't last long according to the authenticity standards.
Here's a quote from Facebook's standards:
We believe that authenticity creates a better environment for sharing, and that's why we don't want people using Facebook to misrepresent who they are or what they're doing.
A single page lander is lacking in authenticity, and that is why we recommend building a full sized lander website. Consider this chart below for a new kind of affiliate funnel.

Example of Landing Page Website With Valuable Content
With this design the Facebook ad goes to an actual website that has original content and value. 
You can still utilize powerful calls to action, but you're doing it in a more authentic and real manner.
Also, make sure your page includes a terms & conditions page, a privacy policy, and a contact us page. The more you can add to create authenticity the better.
Key Points: 
The more steps you put between Facebook and the Beirresistible Sales Letter the better off you will be in avoiding the ban hammer.
Build a content rich content lander and send your traffic there. Then use the site to promote Beirresistible offers.
Make sure your page includes a terms & conditions page, a privacy policy, and a contact us page.
Website Content
As you prepare to build your website, remember that Facebook expects landing pages to be relevant, accurate, and related to the ads.
Relevance
All ad components, including any text, images or other media, must be relevant and appropriate to the product or service being offered and the audience viewing the ad.
Accuracy
Ads must clearly represent the company, product, service, or brand that is being advertised.
Related Landing Pages
The products and services promoted in an ad's text must match those promoted on the landing page, and the destination site must not offer or link to any prohibited product or service.
Learn more about ad quality best practices that can improve ad performance.
Key Points: When you design your site, build it so that there is synergy between ads and articles.
Auto Players
None of your landing pages should have audio or flash animation that play automatically without a person's interaction.
We suggest you don't have any videos that start playing immediately.
At Beirresistible you can turn off our autoplay features by clicking more options on our hoplink builder.
Just click extra options on our hoplink builder.
Beirresistible allows you to disable autoplay and exit pops. 
Key Points: Avoid autoplayers and exit pops with Facebook traffic.
Don't Look Like A Dating Service
Facebook requires special approval for dating services.
You do not want your ads or landing page to appear like a dating service.
Avoid a Discriminatory Message
Another of Facebook's community standards is dignity.
Write ads and content that empower women with dignity and respect.
Don't talk down or present a degrading message.
Don't assume that women are the cause of all relationship troubles.
Don't imply that it is women's sole responsibility to fix the problem.
Carefully moderate the comments on your ads.
If you are getting negative feedback, scrap the ad and try something new. You don't want your ads to come off as something that discriminates against people with relationship troubles.
In the past we could use powerful ads which focused on negative relationship problems.
However this type of marketing is no longer possible.
This example ad below is overly negative and has too many personal attributes.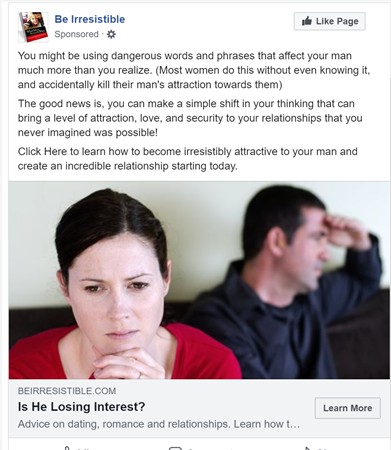 This type of ad will no longer work
Ads should not contain content that asserts or implies personal attributes.
Avoid the word "you" and "other" which can create personalization
.
Key Points:
Build ads that empower women and respect feminine dignity and strength.
Be careful not to discriminate against people with relationship troubles.
Avoid the word "you" and "other" which can create personalization.
Avoid Adult Content
Beirresistible offers family friendly advice on dating and relationships. We suggest you keep all your ads and content family friendly as well.
Here are examples of images that Facebook considers non-compliant.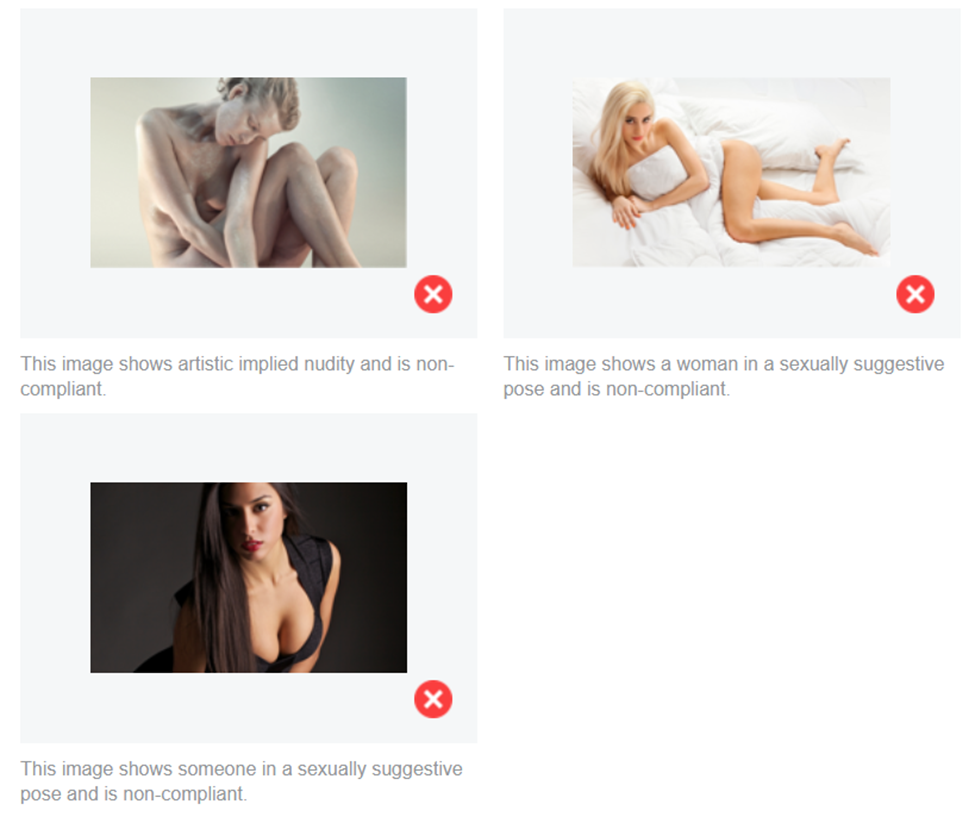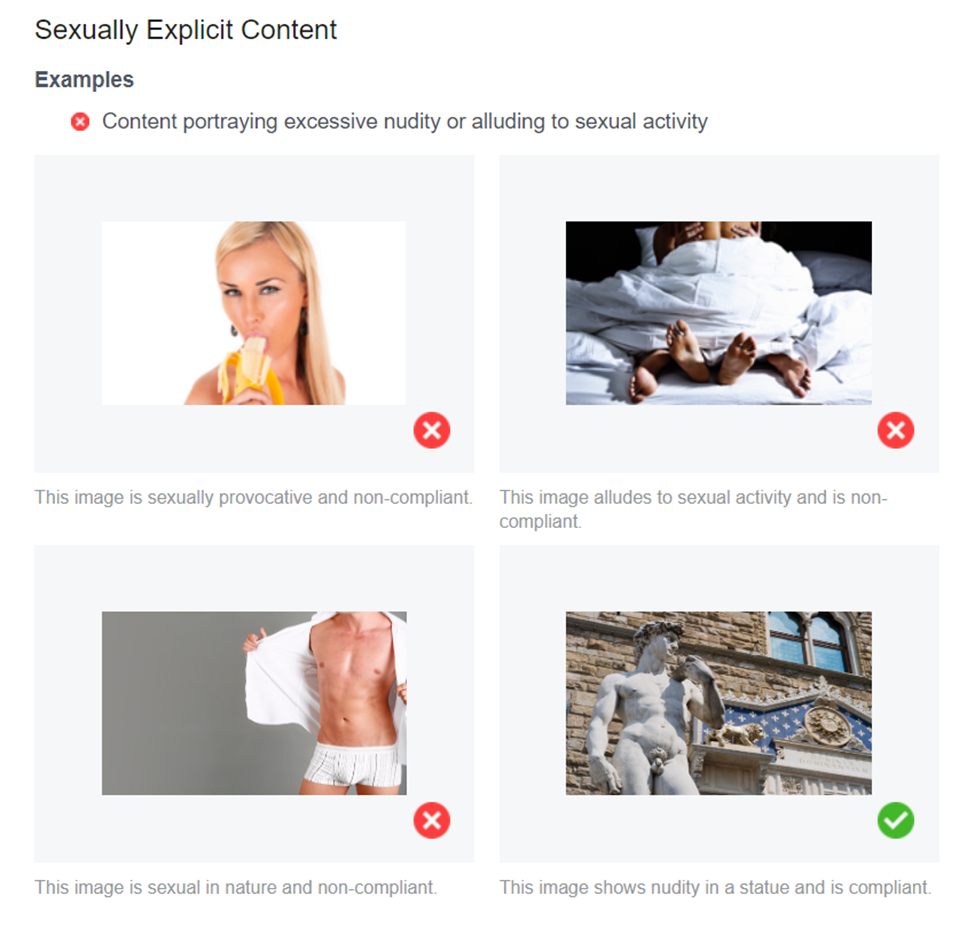 Key Points:
Keep all your images and content family friendly.
If an image is not compliant for a Facebook ad, don't put it on your website either.
Avoid Technical Mistakes
Don't do any of these things on your website or landing page:
Cloaking: Presenting different content to Facebook users and Facebook crawlers or tools.
Misleading content: Content contains a link that promises one type of content but delivers something substantially different.
Deceptive Pop-up websites: Websites that require an action (captcha, watch ad, click here) in order to view the expected landing page content and the domain name of the URL changes after the required action is complete.
Like / Share-Gating: Landing pages that require users to like, share, or otherwise engage with content before gaining access to off-Facebook content.
Deceptive Landing Page Functionality: Websites that have a misleading user interface, which results in accidental traffic being generated (pop-ups/unders, clickjacking, etc.)
Impersonation: The website pretends to be a reputable brand or service by using a name, domain, or content featuring typos, misspellings, or other means to impersonate well-known brands.
Don't pretend you are Beirresistible or represent James Bauer. This is misrepresentation and a violation of our terms as well.
Key Points:
Avoid Technical Mistakes
Don't pretend you are James Bauer or Beirresistible. This is a violation of our terms.
Final Thoughts
I realize that building a website and getting authentic content is a hard task. It's not for everyone, and that can be a good thing.
You'll do better if you go where the competition is afraid to travel.
You'll benefit from creating something real and authentic.
However, if building a more traditional webpage doesn't sound like your cup of tea. There are plenty of other options for successful affiliate marketing.
Make sure you are subscribed to our email list where we share tons of different marketing ideas and suggestions.
Thanks, and please feel free to share any thoughts you might have about working hand-in-hand with Facebook compliance.