Home » What's a Landing Page & How To Make Big Bucks Using One
Hey, it's Ian
You don't know it yet, but at the end of this page, you'll know the process for creating a cash-generating landing page.
However, if you want to start making cash promoting Beirresistible products before creating your own landing page…
Then go ahead and use the landing pages we've created and tested for you.
You'll find links to all of our pre-made landing pages as you read further down this page.
What is a Landing Page and how do you create one?
A landing page is a standalone web page, created specifically for the purpose of a marketing or advertising campaign.
Landing pages are also known as 'sales pages' or 'squeeze pages' depending on how they are used.
However, no matter what you're using a landing page for, the words you use on the page are always going to be 'sales' oriented.
Because the sole purpose of a landing page is to pre-sell an idea or product and make it sound so amazing that visitors want to take action.
If you're sending visitors to an affiliate offer (like one of our landing pages or video sales letters) then know this.
Your Clickbank hoplink is embedded into the button on the page which sends them to our video sales letter.
If the person watching our video sales letter buys the product…
You get paid.
In short, a landing page is designed to turn visitors into buyers.
A good landing page warms visitors to an idea so when they land on the actual product being promoted they already know what to expect.
Example. Our premade landers – that you can use – warm a female audience up to the idea of knowing a secret about what men find attractive in women.
If those visitors take action and watch our video sales letter they are expecting to find out the secret.
And as our video sales letter converts like crazy, there's a high chance they'll buy the product, and then you get paid.
Creating Your Own Landing Page
The quickest and easiest way to create your own high converting landing pages is to use drag and drop software.
Companies such as Lead pages, Optimizepress or Clickfunnels are among the best.
Using drag and drop software means even those without coding, tech, or design skills can quickly and easily create stunning landing pages.
A huge advantage of using drag and drop software is the amount of free support, instruction, and the number of templates each company above offers for free.
There is no longer a steep learning curve with software.
You can create your first landing page in minutes.
Beirresistible Landing Pages (that you can use for free)
His Secret Obsession has 7 different landing pages you can use to promote the program, and it's as simple as sharing a link.
This means you don't have to build anything, to start promoting this program.
Here's a quick rundown of the done-for-you His Secret Obsession landing pages:
This landing page is the default and works great with warm "slightly interested" traffic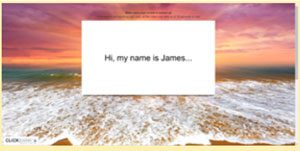 This page gives you the best of a video sales letter combined with a text sales letter. This page works great with paid traffic
It also makes a fantastic follow-up page for retargeting or email sequences
The first landing page is called an article selection page, and you can send your customers here
When you send people to an article selection page they read the articles and then click on the link to the sales page… watch the video… buy the product… and you get paid
Article selection pages work great with cold traffic "no pre-selling"
If you're planning to buy ads online, try this one. Your visitors will feel empowered with their content choices and in most cases, they will still get to the video sales letter.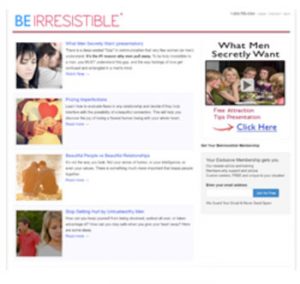 Another 4 Different Landing Pages Each with a Single Article
These work fantastically in follow up sequences or as part of paid traffic advertisements
They do better with cold traffic "no pre-selling"

How to set and use Beirresisitable landing pages
Here is a quick video that shows you how easy it is to use landing pages at Beirresistible.com.