You may have heard people say that keyword research is no longer important.
That keyword research is, in fact, dead…
Keyword research is absolutely 100% not dead. Here's why.
Google uses keywords for the purpose of identifying content in their index to searches that are being made.
Keywords are one factor that Google's algorithm uses to decide which websites to display in the search results.
Without keywords, Google cannot understand what information you offer on your website.
Keywords, then, are to help Google find your content.
Low Competition Keywords
When you find a keyword a low number of websites are targeting. You have a low competition keyword.
Low competition keywords rank easier than high competition keywords.
If your site is new, then you'll find it hard to rank for high competition keywords.
The more time you spend researching keywords and finding low competition keywords the more you increase your chance of ranking for that keyword.
Of course, your content also needs to read better than what is already ranking. So, make sure to check out this post I wrote on content strategy.
Before we move into the mechanics of keyword research. Let's take a moment to understand searcher intent.
Understanding Searcher Intent
This section will only skim the surface of searcher intent. For a more detailed post go here.
To understand searcher intent better than anyone else in your niche you should have created a customer profile. Here is a step-by-step guide for creating a customer profile.
There are three basic types of keyword searches. They are:
Informational
This is when someone searches for the answer to a question.
"Best pizza toppings"
"Signs a man is cheating on you"
"How to build an igloo"
Navigational
When someone is searching for a specific website.
"NASA website"
"His secret obsession web site"
"Insider Affiliates"
Transactional
Transactional means someone is looking to buy something.
"UFC fight pass subscription"
"Leather dog leads for big dogs"
"Buy plastic party cups"
When you understand the people in your niche. You'll have a better idea of the type of keywords they are going to be using.
For example, if you're in the relationship niche. Most search queries are going to be informational.
"Signs he loves me"
"How to get a man to fall in love"
"How do I know if he is going to ask me to marry him"
A combination then of knowing what searcher intent is and what people in your niche are searching is vital before you start looking for seed keywords.
Methods For Finding Seed Keywords
Seed keywords are your foundation keywords. You enter these seed keywords in keyword research software. The software generates more keywords based on those seed keywords. And tells you how much competition there is for the each keyword.
Another way to think of seed keywords is this. Seed keywords are generally broad terms such as 'relationship'.
And the keywords that the keyword research software finds (based on the seed keywords) are generally long tail keywords such as 'relationship worries for women over forty'.
95% of your keyword research efforts are in finding seed keywords.
Here are 31 ways to find seed keywords.
If you're a regular reader of the blog you'll see images with examples of Keywords Everywhere on most of my articles.
In short, every time you search Keywords Everywhere will show you the search volume for the phrase you've searched. Plus related keywords.
You can save keywords you find or export large lists of keywords.
Keywords Everywhere is currently 100% free.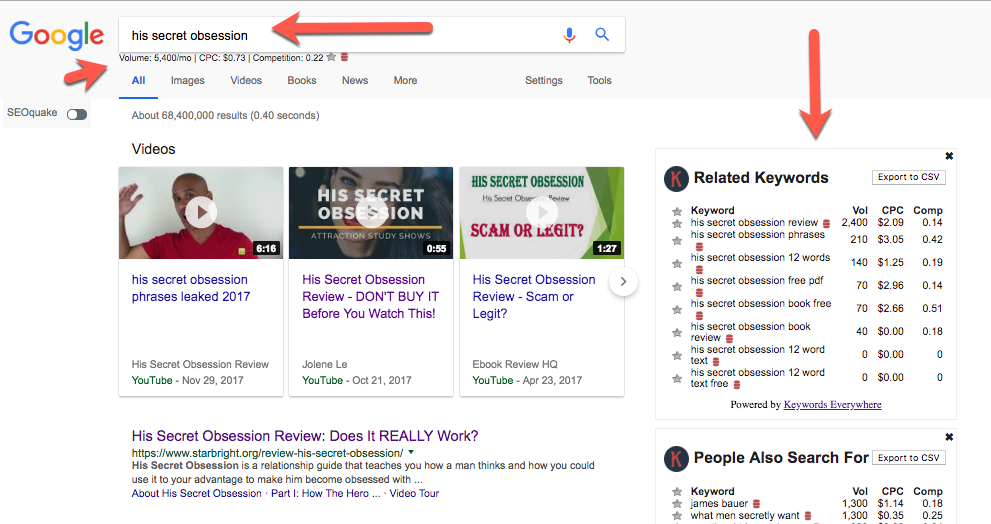 Amazon
Go to Amazon and put the broadest possible keyword search into the search bar.
Then scroll through all the results looking for possible keywords.
From the image below, I'd pick the following: 'Online dating' 'Never chase men again' 'The brutal truth about dating'
Remember we are only looking for seed keywords at the moment.
And yes, your seed keyword list is going to be very long. Don't worry I'll show you how to filter them later on.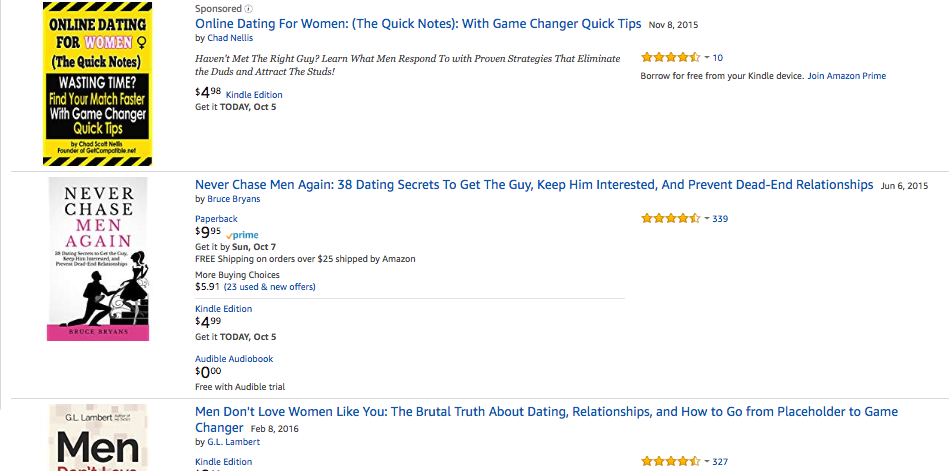 Answer The Public
Not only is this an awesome site for finding keywords, but the grumpy old man dancing also makes you laugh as you search.
The site also offers a short email course on how best to search. I've been through the course; it is short but full of plenty of tips.
You get the option to look at the data as visualization or a data set. And you can export all the data. You'll get hundreds of keyword ideas from Answer The Public.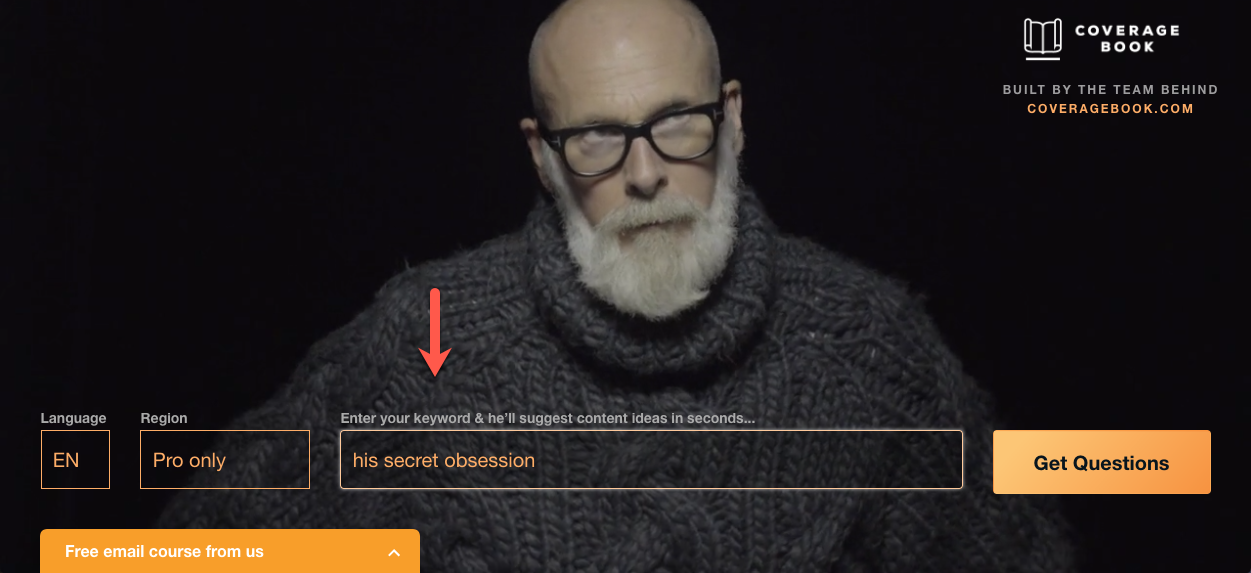 Buzzsumo is a premium tool, but you get 3 free searchers each day. Go ahead and search your main keyword and then notice the keywords that are used in the articles with the most searches.
If you're a SEMrush user then you can open the articles that Buzzsumo suggests and further break down each article for all its keywords.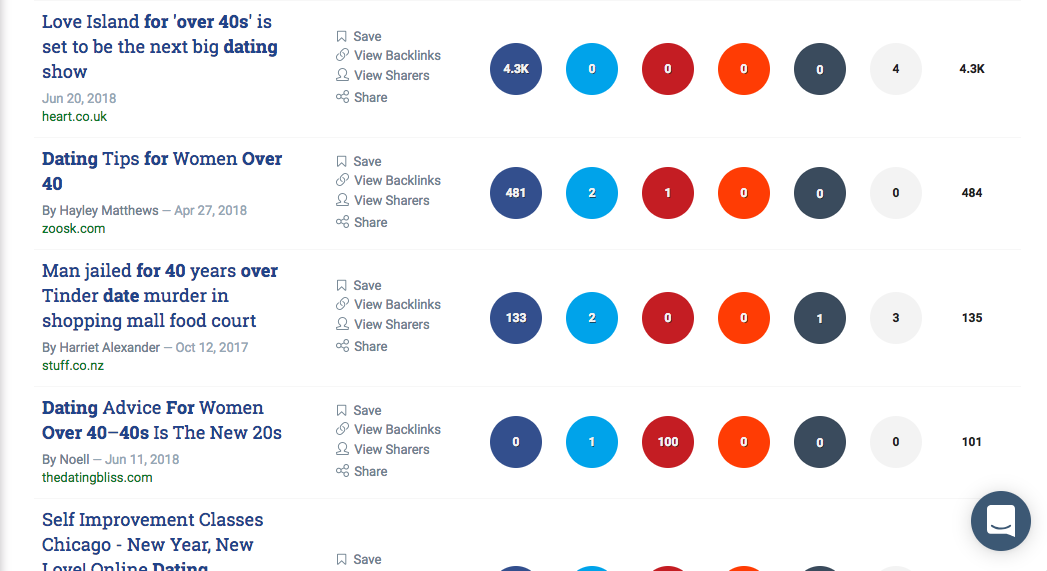 Facebook Groups
All good affiliate marketers are also good spies. Whatever your niche is trying to join as many related Facebook groups as possible should be one of your top priorities.
If you're in a good Facebook group then you won't be able to drop links to your product. That's fine; there is much you can learn inside a Facebook group.
Keep your eyes peeled for natural language phrases that people use when they communicate.
You might find that Facebook groups throw up more than just keywords. You'll probably get a whole bunch of article ideas as well.
LinkedIn Groups
LinkedIn groups work in the same way as Facebook groups for collecting information on what phrases people are using.
Feedly is now a premium service.
Feedly aggregates content in one place so you don't have to go and find it.
You can cluster together the top articles in your niche and then run them through SEMrush and steal all their best keywords.
Forums
As well as finding keyword ideas you can also get a backlink from most forums. If you post that is.
The easiest way to find forums is to use these search strings.
"keyword forum"
"keyword" + "forums"
"keyword" + "forum"
"keyword" + "board"
For the relationship niche those search strings might look like this:
"Female dating forum"
"Female dating" + "forums"
"Female dating" + "forum"
"Female dating" + "board"
Google Keyword Planner
The Google keyword planner is my least favorite option for finding keywords.
The GKP is for finding keywords for Google ads.
You can find keywords on here, and I guess a lot of people would scream at me if I did not include it on the list.
Google Search Console
Finding keywords using GSC is slightly different to the other options. Here I'm looking for incidental and accidental keywords. Let me explain.
Say I write a post using the keyword, 'I love my man' and then when I check in GSC I see that the keyword 'I love my boyfriend' has much higher search volume…
Well, I might just go back and change the blog post title and opening keyword for the one with higher searchers.
Google Autosuggest
All you have to do is pay attention to the autosuggest box that appears when you start to type.
If you're using the Keywords Anywhere plugin you'll automatically see the search volume.
Far too many affiliates that I know don't take advantage of Google Trends.
You can find some hidden gems using GT.
Put your search term in the search bar at the top then scroll down to related queries.
Print Books
Time to go analogue.
If you're in the relationship niche then breakout those romance novels and note down anything you think might be worth searching for.
To be honest you could lose years of your life searching Quora for keywords, because there are just so many.
It's as easy as entering a keyword like dating, then clicking on the answers and pulling out the keywords you think people would search for.
Don't forget at this point of the keyword research you are looking for seed keywords.
That means you can pick any word or phrase that you might think people search for.
Blog comments
If you've read the article on how to create a content strategy, you know how much value I put into reading comments.
Remember the people who are writing the comments are using their words.
They have not sat down and done keyword research prior to posting their thoughts.
That's why comments are so great.
You'll find people using natural phrases. The kind of natural phrases they'd use when searching Google.
I love Reddit. And if you read any of the posts on researching your customer profile or content strategy I show you exactly how to use Reddit.
Check out those articles about how to use Reddit and then do the same as I advise you do when searching Quora.
Simply read the post and pull out what you think are natural phrases.
Other Sites Worth A Mention
This post could go on forever. As you can see there are so many places you can get keyword ideas from.
The sites above are my favorite sites to check. These sites below are also worth their weight in gold. But there is nothing more I can teach you about searching for seed keywords.
Go to each of these sites, have a look around, and note down and words you think people might search for.
Surveys
Software To Analyze Keywords
At the time of publication I have not yet created content showing you how to analyze keywords using software.
As soon as I have done this I'll update the article.
However, I can tell you now that there are three tools I use for analyzing keywords.
They are:
Keyword Validation
Keyword validation is the process of analyzing each one of your keywords against the sites that already rank for the same keyword.
Here is a full article on how to validate keywords. This is a must-read.
How To Use SEO Keywords In Your Article And Avoid Keyword Stuffing
Once you have your final keywords you want to enter them into your blog post.
Way too much time and effort is given to this process.
I'm going to show you a way to use keywords in your article, that will avoid Google penalties, make it easier for your to rank, and takes no time at all to understand.
Every post you create should target one keyword and one keyword only. Any other keywords you use support the post. That means they are natural language keywords.
Never shoehorn a keyword in. It'll read poorly.
If you follow the instructions below you'll not need to worry about keyword density or any other nonsensical advice about where to place keywords.
H1 – use your keyword in your blog title
H2, H3, H4, H5, H6 are all sub headers; there is no need to use your main keyword in these headers. It won't hurt if you do, but don't actively try and use it.
The idea of the sub headers is to show that you're digging deeper into a subject. Sub headers are an ideal place to use secondary keywords.
Remember secondary keywords compliment the main keyword. Don't shoehorn them into your content.
Paragraph text. Use your main keyword in the first paragraph you write.
That is it. That is all you need to do to insert your keywords into an article.
Don't over think it.