Validating keywords means going through a process to ensure you have the right keywords.
Marketers who take the time to validate keywords get the benefits.
It's worth mentioning that SEO companies make a lot of money offering keyword validation services because of its importance.
However, armed with knowledge from this article, almost anyone can validate keywords.
Monthly Search Volume
The first check is monthly volume. Using free tools like Google Keyword Planner or Keywords Everywhere will give you an indication of the search volume.
If a keyword only has 10 searches a month, then it's not worth spending time and money to create and promote content.
However, if you spend time on forums or in Facebook groups related to your niche and you see a search string being repeated over and over again, then you might have unearthed a new keyword.
Another way to validate a keyword's search volume is to check it's popularity at Buzzsumo.
Here are the results for the keyword "Get your ex back."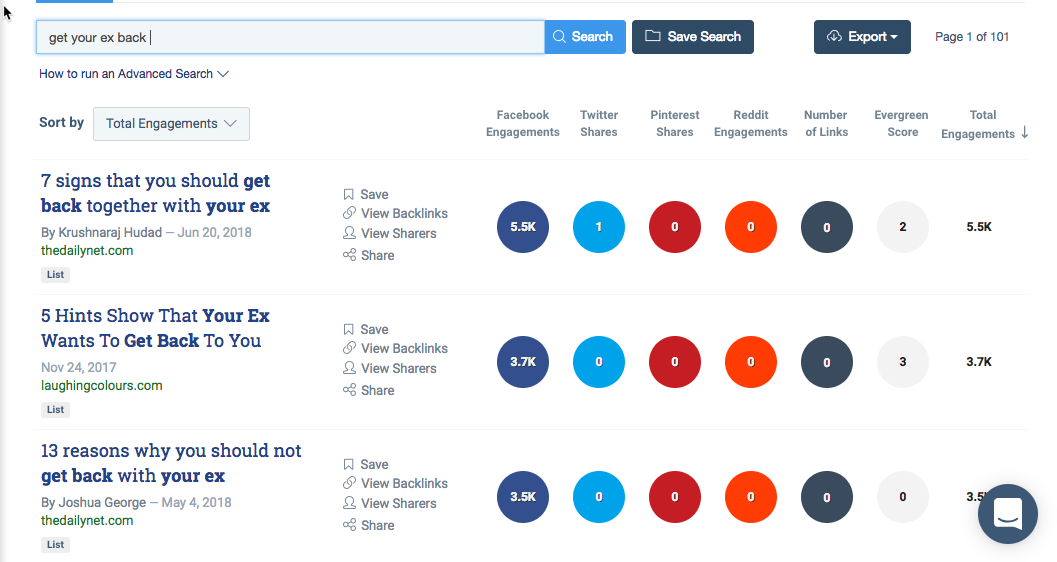 Don't write off a keyword just because it has a low search volume; instead, you should continue to validate it. Which is what I'll show you in this article.
If a keyword has a million searches a month, then we need to validate it. Do we stand a chance of ranking for it?
When using software such as Long Tail Pro, SEMrush, or Keyword Revealer, we get an estimated competition value of the keyword, but more on that in just a second.
The Quick Look Keyword Validation Test
This part of the validation process is literally a quick look at the search engine results pages (SERPs).
The first thing to do is download the Moz toolbar – it's free and you'll find it here.
Next, take one of your keywords and search for it in Google.
When the SERP results appear, the Moz bar gives you an indication of the strength of every website's ranking for that keyword.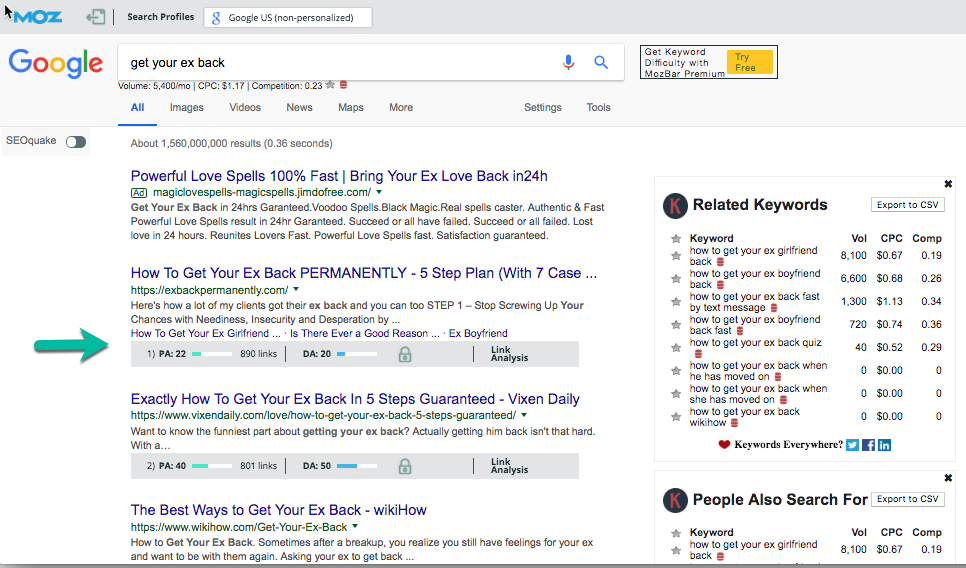 The goal here is to compare the authority of your site to the authority of the sites that are already ranking.
The way to do that is to note down the page authority (PA) & domain authority (DA) of the top ten websites and then average them out.
Then compare the average score of the top ten sites with the score of your website.
For those unsure of what DA & PA are, then think of it this way: DA is like the overall strength of the website and PA is the strength of the article page.
If you don't know the DA & PA of your site, then use this free tool to find that out.
If the average DA of the top ten websites are greater than your average DA, then that's an indication that it's going to be harder to rank.
However, if there are high DA websites mixed in with low DA websites, then the averages can look harder than they really are.
The bottom line, then, is this: You need to figure out if you can beat any of those top ten websites. If each website in the top ten is highly optimized and has hundreds of high-power backlinks, then it's probably best to just walk away from the keyword.
Go ahead and open up each of the top ten websites. Look at the standard of the content. Look at the user experience. And ask yourself this: can I do a better job than they have?
Move on to a deep-dig analysis for each keyword that passes the quick-look analysis.
The Deep Dig Keyword Validation Analysis
A deep dig keyword validation analysis can get complicated and involves using tools such as Ahrefs.
It is possible to hire someone who uses Ahrefs from a site like Upwork. And I'll show you what metrics you will need in a moment.
If you don't have Ahrefs and don't want to hire someone to do the work for you, you can skip past this stage and read this article on content strategy that shows you how to break down your competitors' websites.
Using the Ahrefs metrics, you want to find out the following information about the top 10 websites on Google.
EMA% – Exact Match Anchors Percentage
RD – Referring Domains
DR – Domain Rating (this is an Ahrefs score, you can use DA from Moz instead)
WC – Word Count of Article
FB – Facebook Shares
T – Twitter Shares
P – Pinterest Shares
The point of gathering all this information and getting an average score is to show the minimum work required to compete with the sites that are already ranking.
To beat these sites, you're probably going to have to go above and beyond the metrics they have and the quality of the content they produce.
Ultimately, this analysis saves a lot of time, money, and effort. We only want to go after keywords that we feel confident we can rank for.