You're aware of the sheer volume of content available on the Internet. Competition for people's attention has never been as tough as it is today. But don't take my word for it.
Think about how you skim-read articles, abandon an article halfway through, or don't even make it past the headline. Think about why you do this.
For most people, it's because the content either does not deliver what it promised, sound authoritative, or speak the same language as the person reading it.
Most of the content on the Internet today is written without any thought given to a content strategy.
A content strategy, then, at its most basic is the creation of the best page you can make around a single keyword. By best page I mean a piece of content that understands your reader's problems, speaks their language, and offers them a solution.
If you create a piece of content that is more helpful than any of your competitors, then you're more likely to have a winner. I'll now show you how to create a piece of content that trumps your competitor's efforts.
How To Analyze Your Top Five Competitors For Weaknesses You Can Exploit
For this example, we assume you have a niche, you've completed keyword research, and you're preparing to create content.
The first thing you must do, then, is look at the content that is already ranking on page one of Google. You do this by searching for your main keyword and analyzing the top five results.
When researching your competitor's articles, there are five questions you need to ask.
How are your competitors satisfying searcher intent?
What types of media are your competitors using?
What is the UX experience like?
What is the quality of the content?
How can you improve on the content of your competitors?
Let's look at an example for the keyword "Stages of a relationship."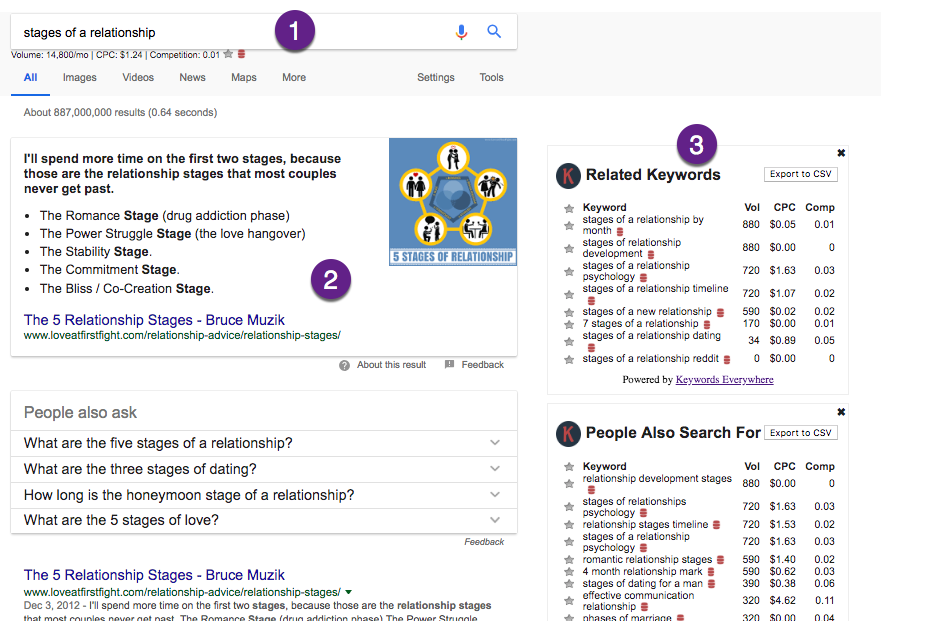 What types of media is the top result using?
The media used to create the content are words, images, and an infographic. Let's look at each of those media types in more detail.
There are 2409 words on the page according to Website Word Counter.  There are 8 images (basic, look like stock images) There is 1 infographic. (very basic).
What is the UX experience like?
The layout of the site is fairly clean and it's not until you're ¾ of the way down the page before a pop-up appears. There is an exit pop-up when you try and leave.
Let's get more technical though and run the site through GTMetrix. As you can see from the GTMetrix report below, if your website and article are better optimized, you stand a better chance of ranking above this content.
What is the quality of the content?
The content is well written. Does it blow you away? Take a look yourself; maybe you think you can do a better job.
How can you improve on the content of your competitors?
Google loves long content. But readers don't love long and boring content. Any content you make has to add value to the reader's life. And you can find that value at the bottom of the article in the comments section.
Read through every single comment and take notes. What is missing from the article, what are people saying? The comments will give you clues of how you can improve on the content.
The next step I take is to run each of my competitors URLs through SEMrush and find out all the keywords they are ranking for. I want to know what keywords the site is ranking for because I want to know if I can use them as Latent Semantic Indexing (LSI) keywords in H2 and H3 headings?
Picking The Best Bits From Each Article So You Can Make A Super Article
If you look at the pages for each of the links, you'll see that people want to interact with the content. By that I mean they want to identify what stage their relationship is in right now. That's the big angle.
People are not looking for dry information about the stages of a relationship. They want the information they are reading to help them self-diagnose where their relationship is now and where it is heading.
If that is the case, then people want more information about each relationship stage. That means you can produce more articles that delve deeper into each topic.
For example, each of the articles say (in various ways) that the first stage is the attraction stage. Well, if you're an affiliate for an attraction product and you offer the reader a chance to look at another article about early-stage attraction, then you've got a much higher chance they'd be interested in learning more about a relationship "attraction" product.
What normally happens is affiliate marketers put an affiliate link in the first article and bounce people straight to a promotional landing page. In short, they send people to the offer too quickly.
If someone reads an article about the stages of relationships and then clicks on a link and reads a second article about one specific stage, and then follows a soft call to action to product page, the chances of conversion are much higher. But more than that, your website is sending Google the kind of ranking signals they reward sites for.
Think about it, a visitor has come to your site, read an article, then read another article, and possibly shared that article or taken another action before exiting. Your content has met searcher intent, your website stands a better chance of ranking higher, and you might make a sale.
Give Readers What They Want And They Will Keep On Reading
We've made the decision that people want to find out where they are in their relationship when they read this type of article. So what if we give them some content they can interact with?